The next adventure in the Anthology series of Star Wars films will be directed by Christopher Miller and Phil Lord, whose credits include the critically acclaimed The LEGO Movie and Cloudy with a Chance of Meatballs, as well as 21 Jump Street and 22 Jump Street.
The screenplay is written by Lawrence Kasdan and Jon Kasdan. The story focuses on how young Han Solo became the smuggler, thief, and scoundrel whom Luke Skywalker and Obi-Wan Kenobi first encountered in the cantina at Mos Eisley.
Oh oh. Oder: Chris Pratt macht's.
In der Meldung gibt's ein paar der üblichen "We won't screw this up!"-Quotes von Produktionsseite. Ich bin misstrauisch, aber hoffen wir das beste. Wie immer.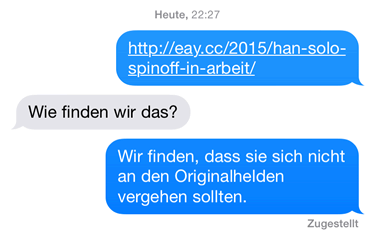 Update, 23:20 Uhr: /film erzählt einen Schwenk aus dem Expanded Universe: 10 storylines to expect from the Han Solo Star Wars spin-off movie.